Please Share Your Experience
We would love to hear how your experience was when working with us! Please feel free to submit your testimonial below. We value your opinion and would love to hear how you liked working with us at Guttering by Gary!
Fantastic Service
A fantastic company! Chris was friendly, professional, and their work was prompt, thorough, and honest. Their prices are very great. Chris is very thoughtful with his clients and provides reasonable suggestions to make sure things work as they should. He even provided us with a self addressed and stamped envelope for payment! There aren't many companies like this. Would absolutely recommend him to other family and friends. 10/18/23
Sara Baumgarten
Best service there is!
Lost part of my gutter during a storm. Contacted Guttering by Gary and was met by Chris immediately for an estimate. All work was completed quickly. Chris and his crew were prompt, professional, and the work they did was top notch. There are other gutter businesses out there, but none come close to the service Guttering by Gary provides.8/31/2023
Carl Miller
Good company
Quick callback and timely scheduling. Chris came out when scheduled and cleaned all the gutters for 10 townhomes in our community. Chris discovered that all our gutters had foam installed. He quickly resolved the problem at a reasonable cost. Gutters work great now. Good people, good work, and reasonable cost. I will be using them again in November and highly recommend them. Mark 6/30/23
Mark Bristow
Excellent and professional gutter replacement work!
Couldn't be happier with gutter replacement project from Guttering by Gary. He knows gutters like nobody else. Strongly recommend! Michelle Medina 3/31/23
Michelle Medina
Job well done 👏
Just had gutters installed, perfect workmanship, work was professional, done in a timely fashion at a great price. Will be calling soon to have power washing done for sure. Would recommend to family and friends. Bill 3/18/23
William Winkler
We highly recommend him!
My gutters were over 21 years old and they were causing water damage to my house. We received a quote from another Gutter Company which was over double what Chris charged us and also included things we didn't need. Chris is very honest and told us what we needed and also gave us recommendations on our roofing system. Chris is also a dog lover and was able to work with my Dog who usually has issues with visitors. Diesel (our Dog) really likes Chris too. Chris was referred to us by one of my Co-Workers. We highly recommend him!
9/24/2022
Patrick Hughes
Happy first time customer
Bought a new home in Mount Laurel and noticed that the gutters were very dirty and full of debris. I'm new around here and went to a neighborhood Facebook page asking for recommendations. Someone else recommended gutteringbygary and Chris sent me a private message after I had already requested a quote on the business page. I got a phone call within the hour and because of how nervous I was with the upcoming weather they fit me in the next day for a cleaning! Great people, great service, and reasonable with cost. Will definitely use this company again. 5/17/2022
Jessica Sullivan
Great work
Chris was upfront with what we needed and gave us our best option. He was thorough and honest. Definitely reliable and I would highly recommend.
Sue Shilling-Ottenberg
So happy with my new gutter guards!
I had new gutter guards done after replacing all my gutters. So much more reasonable than other companies, very professional and they even showed me how snow and ice from my solar panels was damaging my gutters. At Chris' recommendation, I called our solar company and they added snow dams to our panels saving our gutters and our property! I highly recommend them.2/28/22 JULIE
Julie Foxx
Quality Work at a Great Price!
We just had our gutter guards installed by Guttering by Gary! Chris was very transparent and thorough throughout the process from providing an initial estimate, to answering questions, providing recommendations on our current gutter design, ordering the material timely, and completing the installation smoothly. We are very pleased to have our gutters and downspouts flowing freely thanks to the work by Chris and his team! As a family owned business Guttering by Gary truly cares about what is best for the homeowner. Highly recommend his services! 8/17/2021
James Pandolfo
Highly Recommend! No other better!
We just had our gutters cleaned . Thank goodness we finally found Gary! We quickly learned that our gutters were being neglected by past gutter cleaning companies. We have several downspouts on our home and he immediately identified the particular downspout that was causing us the most concern. (We had pointed this out to several other experts who never ever identified the problem!!) Chris knows what he is doing and is extremely focused at solving problems quickly and at a reasonable price. He definitely takes pride in his work and wants what is best for the homeowner. Look no further- you have finally found the best guy around! You won't be disappointed!!!!
Ali LoCascio
Recommendation
I highly recommend Chris Raab's business Guttering by Gary. He is truly experienced in his field. Him and his crew are hardworking friendly professionals who get the job done. Chris shares his knowledge about how important maintaining your gutters are as well as advise and suggestions that could be a game changer for your homes well being ?.
As long as I live in NJ "Guttering by Gary" will be my GO TO Gutter Solution Company. ??
Patty Kennedy
Came highly recommended and for a good reason
I highly recommend Chris Raab's business Guttering by Gary. He is truly experienced in his field. Him and his crew are hardworking friendly professionals who get the job done. Chris shares his knowledge about how important maintaining your gutters are as well as advise and suggestions that could be a game changer for your homes well being ?.
As long as I live in NJ Guttering by Gary will be my GO TO Gutter Solution Company. ??
Patty Kennedy
Great Work
Gary came on the hottest day of the summer. He did an exceptional job with the gutter cleaning. After he finished, he cleaned up debris completely. You would never know that anyone was working at the house.
We were extremely satisfied with the service and quality of the work. Also very honest as to your current and future needs.
Alan Raskas 7/15/21
Dr. Alan Raskas
Stands above the rest–very pleased
I reached out to Gary because we had water pouring over a second floor spout. He came out promptly, and helped confirm that the original spouting design of one downspout for an entire roof was done incorrectly. He and his staff unclogged that spout, cleaned out all of the rest of the gutters and spouts too just to make sure we were good and was totally reasonable. If you've looked for specialists who both install and clean gutters you've probably seen that it is not easy to find someone who is local, been around the community for years doing this kind of work and has been trusted by neighbors to do it. I used to have my work done by Ned Stevens but they came out and dropped a ladder into my shrubs and broke them–and they are not locally-based. So I totally recommend Gary for any guttering need and he has all of my future business. David H, Haddonfield, NJ
David Huehnergarth
The best gutter installation and service
I've been using Gary's Gutter's for all my homes for years. They have repaired existing and installed new gutters for me. I especially like the guards he uses for leaves. No more worries of spending money in the fall for leaf removal. Who comes back to make sure your gutters are working perfectly during a storm? Gary's. Last but not least the prices are the best. JOE 4/15/21
Joseph Santone
Highly Recommend
We contacted Guttering by Gary and Chris immediately called us back. But then old man winter arrived, and it was a few weeks before any work could be done. As the weather finally cooperated, Chris and his team quickly came and installed our gutters. We are extremely happy with everything, and would without hesitation, recommend Chris at Guttering by Gary. Jerry S 3/21/2021
Jerry S
Excellent Service
I had Guttering by Gary out to do some work at my house and couldn't be happier showed up on time got the work done in a timely fashion I recommend them all the time for cleaning repairs and all new gutter systems highly recommend giving them a call for all your gutter needs Rob M.
Robert Marcolongo
Great service
Highly recommend, quick response! They came out even on Christmas Eve to clean and fix our gutters before the storm . Diana Strashinsky 1/4/2021
Diana
Amazing
Very quick to response! They even came out to clean out and fix my gutters on Christmas Eve before the storm ! Highly recommend.
Diana strashinsky
Highly recommend!
They called me back the same day and we're quick to schedule my home for a gutter cleaning and did an excellent job! Very professional and even called me a few days later to make sure I was satisfied with the job. Highly recommend! 10/19/20
Melissa C
Quality, professional work
We've used Guttering by Gary for gutter cleaning for several years and this year had them install all new gutters. They've always been on time, had fair prices and done high quality work. Based on their recommendations we directed all the water flow around the house to prevent drainage problems we'd had in the past, and have already seen the difference with water no longer pooling on the patio. They know what they're doing and have recommended them to friends and family.
Chris Rosenberg
Thank You!!
We were so happy that we contacted Guttering By Gary! Chris is fantastic, gave us very reasonable suggestions, not like other contractors who always try to make you replace everything when it's not necessary! Chris had our gutters cleaned, gutter guards installed, work was on time and so very thorough! We would definitely recommend his work! Jie Li 8/12/202
Jie Li
The Best
Neither rain nor wind stops thèm from an excellent job! Here the day after extensive gutter damage from wind. Perfect installation of new matching gutters and I was very pleased with the cost. Will recommend to everyone! Scott Soffen
Cherry Hill NJ 5/6/20
Scott Soffen
Exceptional!!
Just had our gutters installed and we couldn't be happier. Thank you to Chris for his expertise on choosing the right gutters for our home. From the estimate to the installation, everything was perfect. Thank you, thank you, thank you!! 3/10/2020
Kathi Faunt
Above and beyond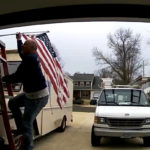 Today our gutters were replaced by Guttering by Gary and did an awesome job! Not only was he professional and knowledgeable, he kept us informed on how the project was going as we were at work. But what stood out the most, was when my husband got home he noticed the flag was put out that we have had in the garage since the summer. I looked at the camera and the owner of the company put the flag out. I messaged him thanking for putting the flag out. His response "I just saw sit in the garage. I figure after the gutter was put up. I would put it up because I'm a veteran". If you thinking about replacing your gutters, I highly recommend this company. ?? Thank yiu Chris Raab for your amazing work but most importantly, THANK YOU for your service to our Country!
Annmarie Schultze
Great Job!
We had a tree fall from a storm and it knocked off all the gutters. Guttering by Gary promptly came to the rescue with a reasonably priced, well done job.
Highly Recommended! Molly Simmons 12/19
Molly Simmons
New gutters and gutter guards
Had new gutters and guards replaced and everything looks outstanding. You don't realize how bad your existing gutters look and work until you have these guys do it right ! Great job.
David B.
Fantastic Experience!
Best price, great work! They showed up on time and were very professional. While working they found an underlying issue and fixed it right away. Highly recommend Guttering by Gary! David Vasso 5/1/19
David Vasso
A fantastic experience from start to finish!
I wanted to take a moment to thank Guttering by Gary for their fantastic work on cleaning our gutters. We just moved into our new home about 6 months ago so each day we find something new we have to take care of! Gutter cleaning wasn't the first thing we tackled so we realized we needed assistance and had to battle the freezing weather we were worried when calling around for gutter cleaning services. We were referred to Guttering by Gary from a neighbor and from the first call to the immediate service provided we are happy to write this review to share the fantastic experience. Guttering by Gary took time to share insight about our home, were efficient and effective and were ever so nice to our family pup. We're sold on Guttering by Gary and plan to use this company from here on out. Thank you for the fantastic experience team – happy New Year and see you soon!
D Perkins
Great Job!
Gary's Gutters came highly recommend from our neighborhood Facebook page. He returned my call the next day, and did an honest assessment of the gutters. Like any outside work weather played a part, but Gary's Gutters stayed true to their commitment and completed the job. I should add that they detailed and worked efficiently, even attaching the gutter extensions – I highly recommend 10/26/2018
Ralph Cooper
Great service!
Spoke with Chris on Sunday and he was here in Monday. Cleaned all of the gutters, even though we only asked for the uppers, and fixed what needed to be done. We've been having trouble with our dogs trying to get to the critters that live in the downspout and Chris gave me a great tip to keep them out! We'll definitely be a repeat customer! 10/1/2018
Dustina M Kramer
Amazing Customer service
6/7/18
Excellent customer service. Last year, when I first had my gutters cleaned on our new home (as well as a new downspout installed), they came out extremely quickly. When I called this year, it was right in the middle of the 10 straight days of rain we had earlier this spring. I was told that my gutters would be done as soon as it was dry, and sure enough the company was at our house as soon as the weather improved. We were away for the week and came back to clean gutters and an invoice in the mailbox, which was a nice surprise to come home to.
A couple of weeks after the gutters were cleaned, one section of gutters began overflowing so I contacted the company and within 24 hours they were back out and the problem was fixed. This is likely one of the busiest times of year for the company, but you would never be able to tell based on their customer service. We will be using Guttering by Gary for all of our future gutter needs.
JJ Graham
Pleasure to do business with
The owner was prompt to return my message inquiring about gutter guards. Gave me a fair, reasonable quote and was out within days to do the install. Highly recommend.
Teri Principe
Quick and courteous service
Nor'Easter number three of 2018 tore the gutter off the back of my house. I called Guttering by Gary to schedule an appointment for an estimate, then Nor'Easter number four hit. Chris was out the first day after the storm, gave me a reasonable estimate and did the job within two days. He suggested another downspout as I was having a problem with the old gutters overflowing even when clean. Great service and I like keeping my business local.
Denise Lewis
Happy Customer
Guttering by Gary had excellent reviews/recommendations on local Facebook group. Chris returned my call, came out quickly and gave me a quote. The next week, my old original gutters were gone and the new guttering system looks fabulous! Couldn't be happier! Two thumbs up!! Plus he even capped all the fascia and rake boards !! the house looks incredible !!!!
Lorraine Contento
Great Service
I am extremely happy with the service I received from Guttering by Gary. The were extremely prompt (service was done within 8 hours of speaking to them on the phone). This is our first home and they were very helpful with all of our questions. A+ service
JJ
Guttering by Gary did a
Guttering by Gary did a fantastic job and came to the rescue on very little notice…Very professional and quick!!I would definitely recommend them !!!!
Thanks again
Lisa Forman
A very satisfied customer
They replaced all of the gutters on my house with seamless gutters and gutter guards. They did the job in one day just in time for the rainstorm last Saturday. They worked great. Quality gutters at a reasonable price. I highly recommend Guttering by Gary.
Denise Little
Was please with recent repair
I called Chris from Guttering by Gary for a recent repair. He returned my call within a short time, showed up when he said he would and didn't try to up sell me. Will call him again.
Nancy Pearl
Great job!
If you are looking to get new gutters https://gutteringbygary.com/ is the way to go! The work was exceptional and professional.
Cynthia Bernard
A + Experience
Thank you so much for your quick and extremely professional work. You and your staff did a great job of replacing the rotted facia board and the new gutters look great.
I also really appreciate you taking the time to check all of the gutters you did not replace and for making sure they are all operational.
These coupled with the great job on the power wash makes my house look brand new.
Truly a great experience.
A.J. Williams
Thanks
Very happy with the repairs to a section of our gutters that had needed help for a long time … The worked was in and out in one day and we hardly even knew he was there … Even my dogs weren't bothered by him … Also thankful for the versatility of the scheduling.
Bob
Amazing Work
Chris came to add an additional down spout but discovered a bigger issue. He explained everything fully and was back out the next day to remedy the situation and make sure everything was fixed. We were very fortunate he discovered the issue before the entire section fell off the house. We are very happy with the work performed and will be contacting Guttering by Gary for any future issues. march 2 2017
Jeremy Katz
IMPRESSIVE!!!
I WAS VERY IMPRESSED WITH THEIR RESPONSE TIME. THEY RETURNED MY PHONE CALL WITHIN 24 HOURS AND CAME OUT TO THE ESTIMATE THE SAME DAY. I HAD A LOT OF WATER ISSUES THAT I WASN'T EVEN AWARE OF THAT CHRIS POINTED OUT TO ME AND MADE TOTAL SENSE WHY I WAS HAVING WATER ISSUES WASHING OUT MY GARDENS AND WATER IN THE BASEMENT. HE WAS VERY PROFESSIONAL AND HIS WORKMANSHIP WAS OUTSTANDING EVEN REPLACING THE ROTTED FACIA BEHIND THE GUTTERS.WE EVEN DECIDED TO HAVE HIM INSTALL THE GUTTER GUARDS TO HAVE THE EXTRA PROTECTION SINCE WE HAVE SO MANY TREES.THE WARRANTY HE PROVIDED FOR OUR FAMILY WE WERE VERY HAPPY WITH AS WELL !!! YOU PAY FOR WHAT YOU GET WE FOUND OUT EVEN WITH 2 OTHER COMPANIES THAT WERE CHEAPER …. WE HIGHLY SUGGEST THIS COMPANY TO ANYONE !!!!
Karen
All we hoped for!
Chris came highly recommended and lived up to our hopes on price, professionalism and work results. He refined the layout when he replaced our gutters which resulted in significant improvement in the flow within them. We couldn't be more satisfied.
Michael and Margie Kazanjian
Would highly recommend!!
Recently had Chris of (Guttering by Gary) do some soffit/ fascia board repairs and gutter screen replacing. He was very thorough, honest and reliable. I would like recommend his services. Oct 1, 2016
Sandy
Was very pleased
Recently had Chris of (Guttering by Gary) do some soffit/ fascia board repairs and gutter screen replacing. He was very thorough, honest and reliable. I would like recommend his servives. Oct 1, 2016
Sandy
WONDERFUL!!!
Chris Raab and crew arrived bright and early (on time) for the job. They got right to work replacing all our old gutters with bright shiny new ones. We were getting water buildup from rain that we thought was due to roots underground in the pipe going from our sump pump out to the street…however, after Guttering by Gary's crew installed the new downspouts and gutters, we no longer are having the issue!! The gutters really make the world of difference! We would like to get the gutter guards installed next! Thanks Guttering by Gary!!!
Emily Lamboy
We are looking forward to serving you. We'll give your property the sparkle it deserves!